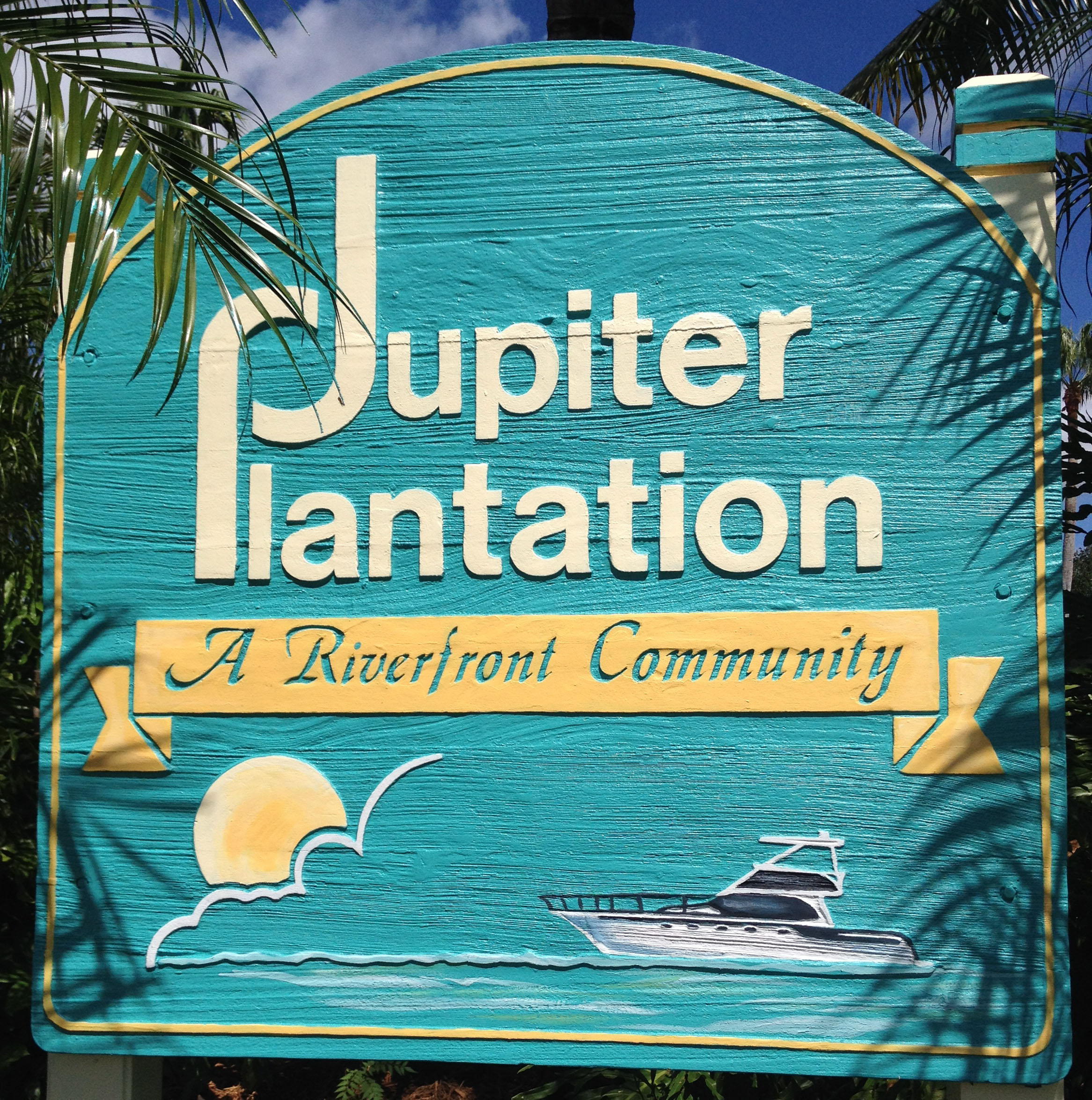 JUPITER PLANTATION
HOMEOWNERS ASSOCIATION
JUPITER PLANTATION NEWS Always Updated
**************************************************************************************************************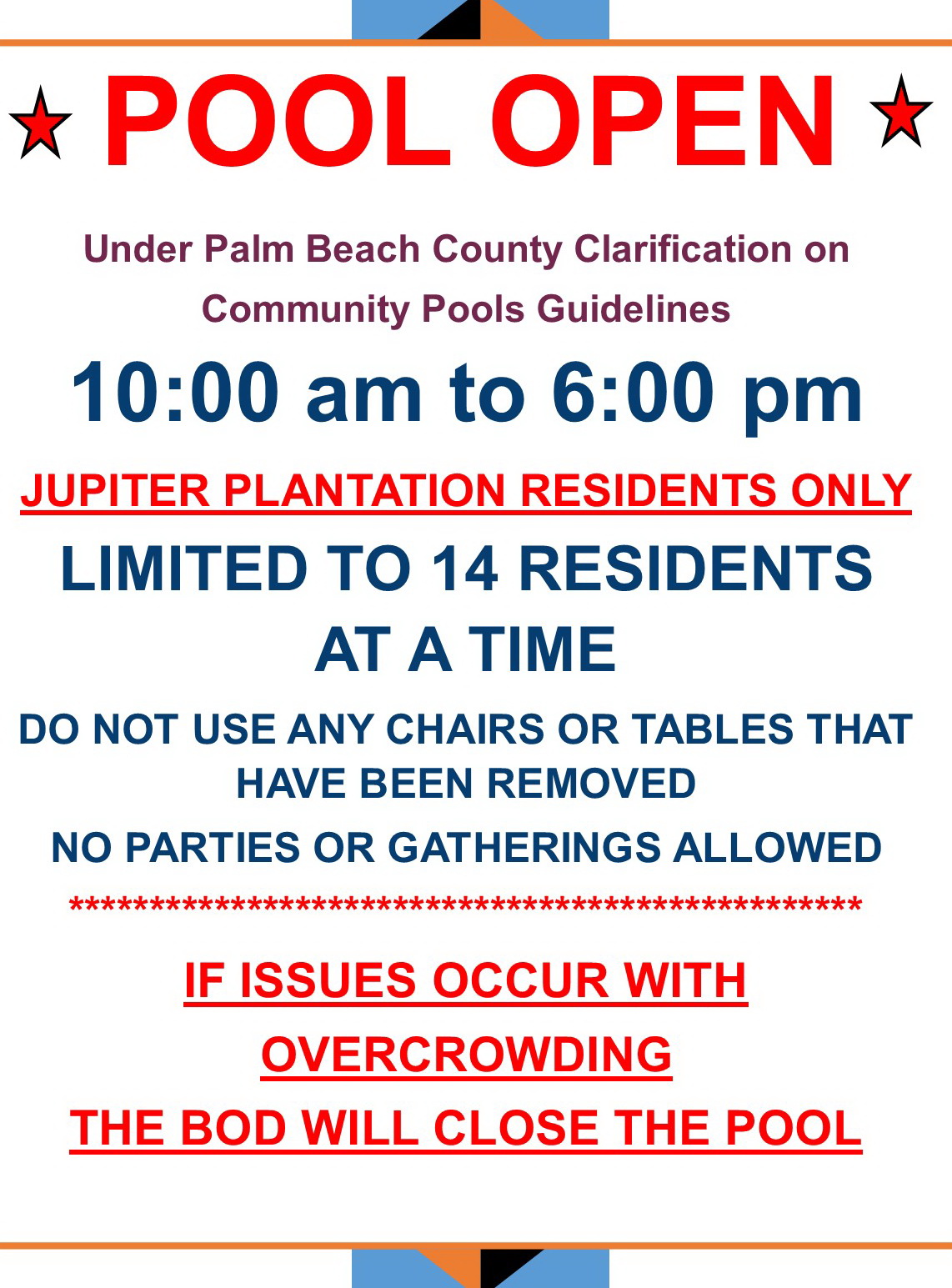 (Put Curser over files to Pause Slide)
DOG WASTE - We spend $3,000 annually to provide dog waste pick up bags at no charge to all residents. There is absolutely no reason why every dog owner cannot obtain a free bag, which is available at 9 dispensing stations to use at the time it is needed. There are also disposal bins at each station




IF ANYONE SEES A PERSON NOT PICKING UP AFTER THEIR ANIMAL < PLEASE REPORT IT TO THE OFFICE> WE NEED LOCATION, TYPE OF DOG AND LOCATION WHERE THE DOG OWNER LIVES. WE WILL FOLLOW UP IF WE HAVE GOOD INFORMATION.

ATTENTION ALL RESIDENTS

TRASH DISPOSAL - All trash must be placed in closed bags and then put into a container with a tight-fitting lid. NO TRASH MAY BE PUT OUT FOR PICKUP ONLY IN A PLASTIC BAG. It must be obvious to everyone that plastic bags rip easily and the contents are then strewn all over the property by our strong winds. This stuff clogs up our fountains and makes a mess of our lake shorelines.




Trash may only be placed out at the curb on the evening the day before pick up. Empty containers and bins are to be retrieved as soon as possible after pick up and kept on the patio. No containers or bins may be left outside the fence area. Our scheduled pick up days are Tuesday and Friday.

ATTENTION ALL RESIDENTS

PARKING - every vehicle parked overnight on the property must have a decal or a guest pass displayed. They may be obtained in the office. All we need is the make, color and tag #. Each unit is assigned two parking spaces. Overflow parking is available by the tennis courts or by the pool pavilion. Always display a paper showing unit number when overnight in the overflow lots. DO NOT PARK AT ANY TIME ON THE GRASS.




Anyone violating any of the above conditions may be fined $100.00 for each occasion and/or violation. For a leased Unit, the fine accrues to the owner even when he clearly is not the offender.

ATTENTION ALL RESIDENTS

PLEASE

May we all be mindful of the simple requests noted here and keep Jupiter Plantation a preferred place to own and live.

ATTENTION ALL RESIDENTS
Click here to see Town of Jupiter Events
**********************************************************************************
We welcome your Pictures for the Website! Send to: webmaster@ jupiterplantation.org
(Put Curser over Pictures to Pause Slides)
WHY WE LIVE HERE

NATURE IN JUPITER PLANTATION

BY JEAN MALLOWS

NATURE IN JUPITER PLANTATION

BY JEAN MALLOWS

NATURE IN JUPITER PLANTATION

BY JEAN MALLOWS

NATURE IN JUPITER PLANTATION

BY JEAN MALLOWS

NATURE IN JUPITER PLANTATION

BY JEAN MALLOWS

NATURE IN JUPITER PLANTATION

BY JEAN MALLOWS

JP IS A CERTIFIED BACKYARD WILDLIFE HABITAT

SINCE 2006

WEATHER PICS THANKS JAY!

Thanks to Ken Kuhn

Thanks to Ken Kuhn
Attention Residents: 
The Jupiter Police Department reminds you to secure your vehicles, gifts and homes this holiday season by following these simple tips:
• Don't leave gifts and purchases visible in your car.
• Lock ALL of your vehicle's doors, even while you are fueling.
• Keep doors and windows closes and locked while you are away from home and when you sleep.
Please CALL to report suspicious activity.
911 in an emergency or 561-799-4445 for a non-emergency.
*************************************************************************************************************

Trash Cans are to be placed out on main street after dark the night before pick up, and cans are to be removed from street by the next morning.  Trash and Recycle are Tuesday morning, and Trash only on Friday morning.
GUESTS - Our community is a private HOA community.   A guest is someone who is visiting your home.  A guest should be accompanied by resident to dock, pool, tennis courts, and river park area.  People walking in, or driving in, from outside our community, who are not directly visiting you, are not guests, and are trespassing!  This includes dog walkers.  Let's keep pride in our community and maintenance costs and HOA dues down, by keeping non-guests from abusing our privileges and common areas.
CLICK HERE FOR COMCAST INFORMATION
********************************************************************************
ATTENTION RESIDENTS

DUE TO THE HEAVY USAGE OF THE COMMUNITY POOL, PLEASE BE CONSIDERATE TO THE NUMBER OF RESIDENTS AND GUESTS TO POOL AND PAVILION.

BOARD OF HEALTH REGULATIONS PROHIBIT MORE THAN 15 PERSONS IN POOL

.




PLEASE REMEMBER WHILE USING THE POOL AND PAVILION AREA:




1. NO FOOD OR BREAKABLE CONTAINERS ARE ALLOWED ON THE POOL DECK AREA. PLEASE CLEAN UP YOUR IMMEDIATE AREA, INCLUDING THE PATIO FLOOR AND TABLES WHEN USING THE PAVILION. (GUM, CHIPS, FOOD CRUMBS, SPILED DRINKS) PLEASE.

2. HOSECAN BE USED FOR CLEAN UP - THANK YOU

3. NO FLOTATION DEVICES OR SCUBA GEAR IS ALLOWED IN THE POOL.

4. NO DIVING OR RUNNING IS PERMITTED

5. UNNECESSARY SPLASHING AND/OR NOISY OR BOISTEROUS CONDUCT ARE NOT ACCEPTABLE IN THE POOL OR POOL AREA




OWNERS AND LESSEES SHALL BE HELD RESPONSIBLE BY THE ASSOCIATION FOR ALL PROPERTY DAMAGE TO THE COMMON AREAS CAUSED BY THEM OR THEIR GUESTS. NO OWNER, LESSEE, THEIR GUESTS OR VISITORS SHALL MAKE OR PERMIT ANY DISTURBANCE THAT WILL INTERFERE WITH THE RIGHTS, COMFORTS OR CONVENIENCE OF OTHERS.




THE ASSOCIATION IS AUTHORIZED TO LEVY FINES IN ACCORDANCE WITH FLORIDA LAW, FOR VIOLATIONS OF THE ASSOCIATION'S GOVERNING DOCUMENTS. THIS MAY ALSO RESULT IN DENIED ACCESS TO THE POOL AND POOL PAVILION.

REMINDER TO ALL RESIDENTS




PLEASE DO NOT TAKE/THROW AWAY, OR ADD ANY ITEMS TO COMMON AREAS WITHOUT PERMISSION FROM THE PROPERTY MANAGER OR THE BOARD OF DIRECTORS

THANK YOU!
SEE "HAPPENINGS" FOR MORE NEWS